At Confidential Kennels we strive to provide our dogs and clients with the best trainers around ....We use Wolfgang Expert Dog trainer for obedience through protection training.
We use several products and supplements on our puppies and dogs.. Here are a few supplements that I recommend as well as a DE- Wormer. You can find them all on amazon for reasonable prices.
Wormer- We use Safe Guard .. its one of the only wormers I know of that will treat Giardia as well as several other types of more common parasites. The dosage goes by weight on the back. We use it in conjugation with Fish Zole when treating for parasites or skin disorders. Use the fish Zole for five consecutive days .
Joint and immunity- We use Nu-Vet joint and immunity supplement. It taste like meat and can be combined with water or Colloidal Silver and mixed in dry dog food for a wet dog food effect.. Dogs love it and its way better for them then canned food.
Grizzly Salmon Oil- for there skin and coat... this helps with hot spots and makes there coat look great for showing...
Nutri Cal- Its great for daily vitamins and to help maintain dog's weight if there travailing for shows are just don't have a great appetite.
Alpha- Helps to prevent hip disorders and bone disorders in large breed dogs.
Tums- Are great for calcium and bone growth.
Fish Zole- To treat minor bacteria infections in the intestines.
Vibectraplus- natural antibiotic can be purchased from the Wholistic Animal Sanctuary
Paxxin-
Kocci Free- Natural treatment for Giardia and Coccidosis
We use several items for the after care of ear cropping as well as taping prior to you getting your puppy. Here is an easy video for ear taping as well as the products that are used to tape and care for your pups ears. The Vetranarian will also send your pup home with medication for pain and swelling.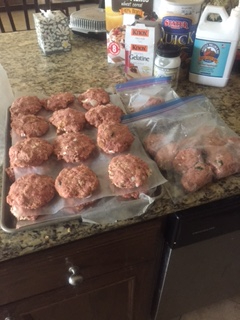 My Show handler Stephan Cabral and Mercedes Messer .